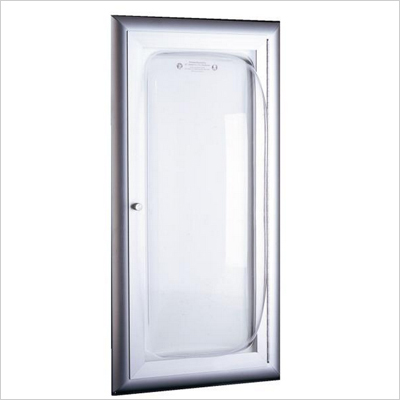 When a Surface Mounted Cabinet is Called for, Select the Canopy with a Full View of the Extinguisher.
DOOR AND TRIM CONSTRUCTION
All clear anodized aluminum construction. Flush cabinet doors with a 5/8″ door stop are attached by a continuous hinge and equipped with aluminum turn knob and roller catch. Extinguisher to be mounted to wall using bracket
BUBBLE
Clear, Red or Bronze Acrylic bubble allows 180º extinguisher visibility. Projection for B525 is 7 1/4″, B526 is 8-1/2″.
TRIM STYLE AND DEPTH
Aluminum surface-mounted frame with 1″ projection. Trim on frame is 1-5/8″, door trim is 1-3/8″
TUB
None
FIRE-RATED OPTION AVAILABLE
No