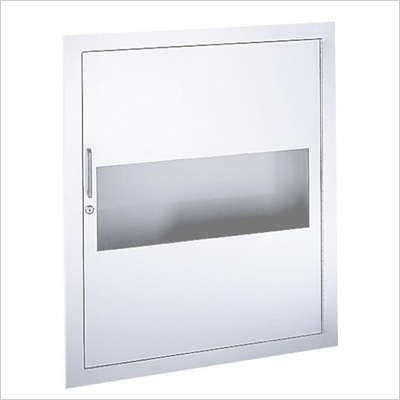 Stainless Steel Cabinet in 11 Door Styles to House up to 125′ Hose Rack Unit, Fire Department Valve, or Combinations of Hose Rack & Fire Department Valve, Hose Rack & Extinguisher.
Door and Trim Construction
#4 Brushed finish stainless steel. Flush cabinet doors with a 5/8″ door stop are attached by a continuous hinge and equipped with zinc-plated handle and roller catch.
Trim Style and Depth
Recessed – 3/8″ flat trim. Semi-Recessed – 1 1/4″ Square Edge or 2 1/2″ Rolled Edge. Surface mount have a square edge or optional rolled edge upon request. 1 3/4″ face trim on frame and 1 1/4″ trim on door.
Tub
Cold rolled steel with white powder-coat finish standard. Surface mounted with optional rolled edge have a galvanized back panel and stainless sides.
Fire-Rated Option Available
Yes.
Door Styles
11 door styles, select link to view.
Door Glazing
Clear Acrylic, Clear Wire Glass with Safety Film, Bronze or Gray Acrylic, Tempered Glass, Laminated Safety Glass.