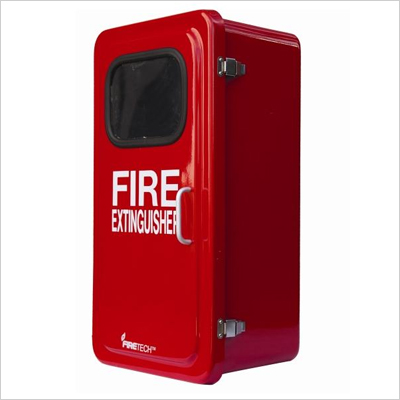 Select the JL FB Series – A Durable, Surface-Mount Fiberglass Cabinet that is Resistant to Salt Air, Chemicals, Dust, Insects, Temperature Extremes & Moisture.
Construction
Tub and door are constructed of fiberglass with full rubber-gasketed door, 6" x 9" acrylic view window with rubber gasket seal, and corrosion-resistant aluminum handle.  All cabinets come standard with a full-length stainless steel hinge attached by rivets.   Door is tightly latched against the  gasket by (2) stainless steel snap latches.
Finish
UV-resistant, high-visibility red finish with 5" x 9" Fire Extinguisher Lettering.
Fire-Rated Option Available
No
Tub Size ID           Outside Dimensions
W  12-1/2″                    16″
H   24-1/2″                    27″
D    8-1/2″                   10-1/4″