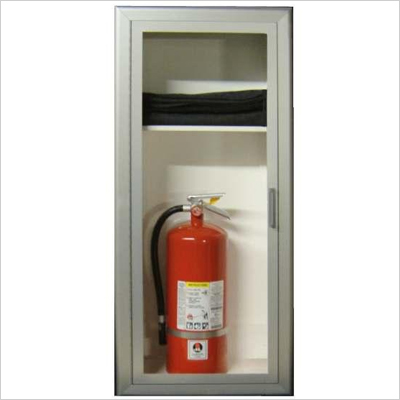 A Specialty Cabinet That Can Hold Both An Extinguisher and Blanket. Select from Aluminum, Stainless Steel or Painted Steel Finishes
Door & Trim Construction
CRS with white powder-coat finish, #180 clear anodized aluminum or #4 stainless steel. Flush cabinet doors with a 5/8" door stop are attached by a continuous hinge and equipped with zinc-plated handle and roller catch. Full glass front with pull handle.
Trim Style & Depth
Recessed – 3/8" flat trim, Semi-recessed – 1-1/2" square trim, 2-1/2", 4" or 4-1/2" rolled edge, Surface-Mounted – square edge. 1-3/4" face trim on frame and 1 1/4″ trim on doors. 4″ Trim models have recessed pull.
Tub
CRS with white powder coat finish standard. Surface-mounted models have clear anodized aluminum or stainless tubs to match the trim and door.
Glazing
Full .090 acrylic door.
Shelf
Shelf is located 9" from the top of the cabinet, providing storage of the blanket above the extinguisher.
Blanket
Each comes with a nominal 62" x 88" x 2.75 lb., processed wool/synthetic fire blanket which meets the Flammable Fabrics Act: Flammability of Clothing Textiles, Title 16, CFR1610
Fire Rated Option Available
Yes